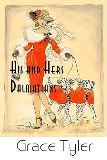 His and Hers Dalmatians
Moonlit Romance
April 2008
My Favorite Blogs and Websites
Bronwyn Parry, Author & Golden Heart Winner!
Crystal Jordan, Author
Kate Rothwell, Author
Laura Hamby, Author
Tori Scott, Author
Nell Dixon, Author
Denise Patrick, Author
Valerie Parv, Australia's Queen of Romance
Joanna Sandsmark, Dog and Kitty Author!!!
Elisa Adams, Author
Sharon Cullen, Author
Meg Allison, Author
Michelle Styles, Author
Julie Cohen, Author
Becca, Writer and People Watcher
Sally Lawton, Playwright & Author
Ainsley MacQueen, Author
Jennie Adams, Author
Cindy K Green, Author
Bronwyn Storm, Doggy Author!!!
Works in Progress
Winter Miracles
The Husband Checklist
Resurrection
Professor Kennedy's Ghost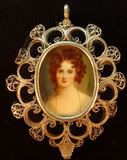 Everyday Hero
The Baby Contract
Almost On My Own
The Stone City
Daddy's Little Girls
Skin Deep
The Dog Next Door
Previous Posts
New job, new attitude, new WIP
Finished at last!
Out of print, but not out of circulation!
Grace Tyler: Why I love animals
What I've Learned
Precious little angel
Kissed any frogs lately?
A great read!
Big news! My paperback is now available directly ...
What a flattering review!


Archives
April 2006
November 2006
December 2006
January 2007
March 2007
April 2007
May 2007
June 2007
July 2007
August 2007
September 2007
November 2007
December 2007
January 2008
February 2008
March 2008
April 2008
May 2008
June 2008
July 2008
August 2008
March 2009
April 2009
August 2009

Credits
design by maystar
powered by blogger

Horrible dream



I had the strangest dream last night. Ordinarily, I would put such a dream aside and move on, but this one really shook me.

I had Dizzy in daycare. Not only that, but I was in such dire straits that a neighbor had told me she'd take Dizzy and FIND her daycare and drop her off. I handed my precious child over and glibly went off to work. Around 3 pm, it suddenly occurred to me that I didn't have a clue where my baby was or who was watching her, and I flew out of work on a quest to locate and rescue Dizzy.

The dream seemed to go on forever, and my little one wasn't even in danger. It was that sense of not having control over the care of my little one that was the nightmare. The priorities that we are forced to make as moms.

And that's why Dizzy's not in daycare and I work at home and endure godawful hours and lack of sleep and live in a Coma. I'm not sure she's better off babysitting me while I sleep, but I'm a lot happier this way.

My biggest regret as a parent is that my 12yo had to be in daycare, sometimes in horrid situations while I looked for other arrangements.

Only a parent would understand this nightmare!

And now on to a day of kid and elder care, and maybe a little typing? Please, oh writing gods?



The Coma, Part Infinity



This is what I don't miss about working--the Groundhog Day effect.

DH tried to shove me out of bed for the 3:30 am shift about 4 times, and I didn't make it until 4:50. Which means now that Dizzy (2.5 yo girl) is napping, I don't get to write. I get to go finish my work hours. Because if I don't do it now, I'll have to do it after school, and then my son will act like the world is coming to an end.

The Coma--Dropped the kids off at school. Came home and let myself rest on the bed. Just resting my eyes, as my dad would say. Resting them but good. Two hours later, I am conscious enough to change Dizzy's pants, but she is intent on retaining the contents of her smelly diaper, and I haven't the energy to argue. An hour later, I win, and she insists on disposing it herself. This is a weird thing I don't understand, but it keeps the peace.

Now she's asleep, and I'm finally awake. I shall emerge from the bedroom (my hibernation Den) and see what mischief she got into while I was sleeping. Besides putting on my makeup for about an hour. The poisons are out of reach, so I trust it's not too bad out there in the rest of the house.

And into the office with a box of crackers and time to work my little typing fingers to the bone. I'd rather be working my fingers to the bone on a book, but it's time to get back to reality.

I've already had my useless caffeine dose for the day. Didn't do a dammmmm bit of good.

EDIT: Plumber showed up the minute I sat down to work. So much for good intentions. Still have an hour or two of work ahead of me.



I have awesome friends



My paperback copies of my book came today. And instead of the buzz I expected, the Christmas morning excitement, I felt the way you do the week after Christmas. The letdown. The energy drain. I held the book in my hands and thought, "All that work for this?"

But my friends are kicking my @zz and not letting me stay in the dumps. I thank each and every one of you. Please forgive me for my imperfect attempt at writing and enjoy the story.



Character Sketch and Excerpt: Callie



Callie is named after the character on CSI Miami played by Emily Procter.


She's a sculptor and pottery artist, and now she's trying her hand at running an art gallery with her friend, Rita, who put up a chunk of the money to get it started. Rita is something of a cougar (older woman on the prowl sexually, if I understand right) and she has ADHD, so once the gallery opens, she is off to the next thing--in this case, she wants to do a New York art gallery show with the artists in the gallery she and Callie run. They are also working on recruiting other artists in their area to showcase.

Rita totally stresses Callie out, and now that our hero (her ex) wants to hook back up with her, Callie is really on the edge.

EXCERPT:

"So how was the ex?"




Callie dumped the sweetbread onto the table and tore a piece off. "Surprisingly okay," she admitted, unsure whether she wanted to tell her friend about inviting him over on Saturday evening. After being divorced three times, Rita would not approve of Callie conceding anything to Hayden, not even for the sake of the dogs.




"Really?" Rita slurped at her coffee and dribbled a bit down her chin. She swore and dabbed at her face with a paper napkin just before the beverage dripped onto her pristine white silk blouse.




"Really." Nibbling at the bread, Callie reflected on the weekend. "I thought we were going to have a grand fight during the dinner on Friday, but it didn't work out."




"What? With all of your ammo, you couldn't think of a single way to start a fight with that dirty dog?"




She almost laughed at her friend's choice of words. "Hayden's really not that bad."




Rita's fastidious blonde eyebrows shot up her forehead. "You slept with him, didn't you?"




"Good heavens, no." She'd considered it, though.




"Yes, you did. You're face is on fire with guilt. Spill the details!"




"You got me," Callie said, putting down her cup. "After our reunion at the pub, we took off for Mesquite and spent the weekend humping like rabbits."




"No you didn't." Rita crossed her legs and leaned back in the chair. "I would have gone away for a weekend of meaningless sex, but you'd never abandon Janie like that."




They had known each other casually since before Callie graduated from the university. One of her student friends had been dating Rita, an interior designer several years older than the art students. They'd met in between husbands number two and three. Over the years, they had traveled in the same artistic circles and bumped into each other frequently. After Callie's divorce, the idea of starting a gallery together had just clicked the way that Hayden had described the previous evening—things had just come together. Their doors had been open almost a year now.




Rita's bare legs shifted beneath the hem of her slim red skirt, and she kicked one red stiletto back and forth while she sipped her latte. "You haven't asked me how New York went."




"Aren't you exhausted? That was a quick trip." After flying to New York and back in three days, Callie had thought her friend would be home in bed today.




"I'm always running on pure adrenaline, sweetie. You know that. Besides," she leaned forward to whisper, "sex always gives me energy."




Shaking her head, Callie started laughing. "Did you really fly out there for work, or did you just need to scratch that itch?"




"I worked." Rita's green eyes sparkled, hinting at the mischief she was always into. "Then I played."




"So? What did they say?"




"It's still a go. We have to put the show together and audition some pieces from the other artists. Once they are accepted, we'll make the final arrangements. You know what clinched it, don't you?"




She frowned. "Jody's series of Apache sculptures?"




"I didn't show them the Southwestern slides while I was there. Our agent is going to show the new pictures to the gallery owner next week."




Callie made the connection. Rita hadn't met with the people from the gallery. She'd only seen their agent. "You slept with Alan!" Taking in air became difficult. "I think I'm having a heart attack." Clutching the arm of the chair, she concentrated on deep breathing. Rita's track record with men wasn't exactly stellar. What would happen when she broke up with their New York agent? Having the future of the show tied up in her partner's romance twisted Callie's stomach.




"Relax. We're just friends with benefits. No nasty relationship tangles to botch the deal. We simply had a fantastic weekend together."




"I hope you paid for the tickets yourself," Callie grumbled. "You're going to have a hard time convincing the IRS that was a business trip."




"Not at all, darling." Rita's self-satisfied smile put Callie's nerves over the edge. "Once the show comes together, no one will question it."




"Next time your boy toy can fly out here," Callie said. The pressure of the show was killing her. She wanted to stick to running their gallery, making back their investment, and building up the local artist community. Rita was the one with dreams of grandeur. She wasn't happy without a big project to manage. Once The Artist's Corner got up and running, she'd quickly grown bored and moved on to her next endeavor.




Callie didn't care as long as their gallery didn't suffer. The average small business went bust within five years, and she didn't intend to be another statistic.




"Aren't you the least bit curious?" Rita stood behind the cream leather couch in the conversation area caressing the leather like a lover.




"I don't want to hear about your weekend with Alan." She was going to hurl.




"Not that, silly. The show. The knockout punch."




Shrugging, Callie said, "Sure, I'll bite. What did you show him this time that he hadn't seen before? Besides your personal assets, I mean."




"Your paintings."




Tomorrow morning Callie would call her doctor's office and get her blood pressure checked. She waited for the roaring in her ears to die down before she spoke. "My paintings are terrible." Her voice cracked, and she cleared her throat before continuing. "What on earth did you show them?"




Alan's taste in art must be as bad as his taste in women if he liked her work. She'd given up painting her first semester in school and turned her attention to clay. Some of her paintings were still in the gallery's storage locker, but she'd tossed the rest out when they moved into the building.




"The post-divorce series."




Groaning, Callie sandwiched her head between her hands. "You showed those wretched things to actual human beings?" She should have thrown them away but she hadn't gotten enough emotional distance yet, so into the storage locker they went.




Apparently she should have made sure she had the only key before she'd put her work in there.




"Technically I only showed them to one human being."





Character Sketch and Excerpt: Hayden



Hayden is named after the character Hayden Fox from the TV series "Coach" played by Craig T. Nelson.

Creation is an incomplete process, in that I could tinker with my project endlessly. I wrote HIS AND HERS DALMATIANS in a short format, so there wasn't occasion or room in some cases to include all of the backstory of each character. There is also the newbie factor--did I make a strong enough case to convince the reader about the character's behavior, or should I have sprinkled in a bit more background? I think I shortchanged Hayden, but once you turn in your book and it's released, edits have to stop. Thankfully! Whew.


EDIT: My editor told me that I hit just the right balance of backstory for the format, so I should quit stressing. Yes, ma'am, Ms. Cathy! I bow to your expertise!




Hayden comes from old money. He's a trust fund baby trying to make a name for himself and step out of the shadow of his deceased father. This explains his easy use of the conveniences his money can buy as well as his overcommitment to his business during the first years of his marriage. Hayden loves fiercely, and he enjoys taking care of the people and animals in his life. In his view, money makes a good vehicle for service. Callie, on the other hand, wouldn't think his service counted unless he used his own hands to render it. They are learning to meet in the middle on this issue, as well as other issues.

He shares Callie's passion for art, and is awed by her talent and proud of her achievements. Nature inspires him as well. He is more removed from the challenges facing our planet, but he enjoys outdoor recreation. And of course, he loves both of the dogs. He enjoys their companionship and their individuality, for Ricky and Lucy are unique and special in their own ways. The reunion of this family is meant to be, and I hope you will participate in their quest for happiness by reading this special story.





EXCERPT:




A breeze lifted Hayden's hair as he tossed the Frisbee to Ricky again. The dog caught it with ease, despite the fact that they hadn't played for the past few weeks due to Hayden's business trips. Board rooms and dinner meetings couldn't compare to Saturday afternoon at the park, the sun warm on the back of his neck. He'd left his shoes beneath a nearby tree while he enjoyed the cool crush of the bright spring grass beneath his bare feet.


Ricky brought him the plastic disc and dropped it before standing on his hind legs and slapping his paws on his owner's chest. Hayden put his arms around the dog and petted him vigorously, eliciting a sharp bark and a kiss from Ricky. Laughing, Hayden tumbled the Dalmatian to the ground and wrestled him until he collapsed. The dog flopped down next to him and treated his owner to a wide smile, sporting a mouthful of teeth and wagging his tail ferociously. The first time he'd seen a Dal smile, Hayden was put off by the bared teeth. But the breeder had explained it was a show of affection and how to tell whether the dog was angry or happy. Ricky was definitely happy today.

Hayden hadn't seen that smile very often since leaving Callie's.

He covered his eyes with his bare forearm and inhaled deeply of the smell of sun and spring grass. Gradually the tension he'd been harboring for an entire month ebbed. His latest deal had been grueling, and all the while he worked on it, he'd battled his anticipation of a reunion with Callie. He hadn't expected the wedding to be so peaceful, he thought, twisting up the corners of his mouth.

Ricky flopped his head and front paws onto Hayden's chest, and the man and his dog lay still on the ground. Ricky's muffled snuffing and throaty grunts punctuated the sound of other people enjoying the weather and the park environs. When he really concentrated, Hayden could tune all of it out, even the Dal's grumbling and wiggling against his rib cage, and just listen to the music of the birds overhead in the old-growth trees.





Book Review



Courtesy of Romance Junkies' reviewer, Scarlet:

Witnessing these two proud characters struggle to overcome pride and misconception is a lesson in forgiveness that is unmistakable. Grace Tyler's love for dogs come through loud and clear as we watch Lucy and Ricky get to know one another and their respective humans all over again. HIS AND HERS DALMATIANS is a breezy love story I am glad I indulged in.

For the full review, please

visit my friends at Romance Junkies

!





Behind the Scenes--The birth of a book



I love reunion stories, because they demonstrate the difficulties of making a relationship work over the long haul. The words, "And they lived happily ever after," don't really demonstrate what happens after a couple walks down the aisle, as anyone in a long term relationship can verify.

From here, I borrowed an idea from the movie "The Parent Trap," but instead of splitting up twins, I've split up the couple's Dalmatians. The movie focuses mostly on the children's reunion, but I've focused on the divorced couple's reunion, which is forced on them by the need to attend the wedding of mutual friends.

Questions I wanted to explore were why do couples break up when they really love each other? How can I make my hero and heroine have significant enough differences to necessitate a divorce and yet have enough commonalities and a strong enough love to bring them back together in the end?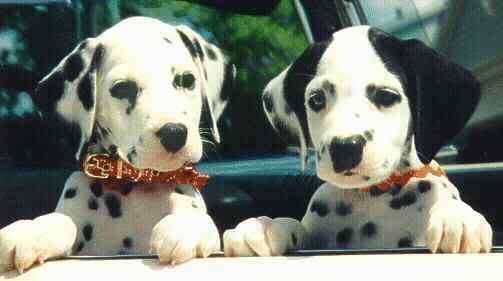 Dalmatian pups
(c) 2004 M. Deer

Why Dalmatians, as opposed to any other breed of dogs? First and foremost, they are beautiful dogs with elegant markings and regal bearing. And they do not make good pets for many people, because they require a lot of exercise and interaction. Hayden discovers this after he begins the single life. Our hero is a high powered business man and travels a lot. Consequently, he has to hire a live in caretaker for his dog. Hey, he's got the bucks.

Dals are beloved by the aficionados of the breed, and have many fun characteristics. They are highly intelligent, athletic, and tend to be mischievious. They also display what is known as a "grin." In the pictures I saw of it, it looks like the dog is growling the way the teeth are displayed. But Dals actually smile when they are happy or excited, and the way to tell the difference when you are inexperienced with the breed or the individual dog is to watch his tail. If his tail is wagging and his teeth are bared, he's smiling at you.



A Dalmatian smile
(C) 2000 Judith Barneveld

Pictures courtesy of

http://hattrick-dals.home.att.net/DalInfo.html





Ah! Sweet Release



At last! His and Hers Dalmatians is available for sale at

Moonlit Romance

. I've ordered my copies and can't wait for them to arrive.

Here's the blurb and an excerpt:

Callie and Hayden James have nothing in common, other than their last names and a pair of Dalmatians. Their relationship was just as volatile after their divorce, so they split up the dogs to maintain the peace. After two years apart, attending the wedding of mutual friends forces Callie and Hayden to see each other again. Can this event lead to a truce and sharing custody of the dogs?

_____________________________________________________

Excerpt #1
Hayden's ex-wife reappeared at the head of the table and stopped. Callie looked directly at him, and he smiled at her, wondering what was going on in that complex mind of hers. She glared at him before returning to her spot at the table to perch on the edge of her seat. The animosity he'd expected had returned in full force. And it was directed at him.

"What did I do?" he asked her in a low voice.

"Nothing," she answered, but the color on her cheeks and the grim set of her mouth said otherwise. Anger radiated from her, singeing his skin with its intensity.

Leaning back in his chair, Hayden adjusted the knot of his tie. This was familiar territory. The last year of their marriage had consisted of daily exchanges like this. When he had realized he would be seeing her this weekend, Hayden had almost looked forward to fighting with her.

Her hostile silence slashed through his composure, and the conversations surrounding him became background noise as Hayden's body tuned in to Callie's. She hated him. Still.

The depth of her emotion ignited his own passions, and the years of their separation fell away. She was the same woman, his Callie, no matter how her appearance had changed. And he still wanted her.

After retrieving her beaded bag from the table, Callie stood and announced that she had to leave. Her mumbled excuses were met with regret from the members of the wedding party, while the bride stood and kissed her on the cheek before she made an abrupt exit.

After a moment of indecision, Hayden followed Callie out the rear door of The Black Horse. "Callie, wait!" A couple of cars crept through the alley behind the Salt Lake City pub, and he dashed between them to catch up with her at the edge of the parking lot.

She spun around to face him, taller than he'd remembered in her spindly black heels. "Hayden, I don't feel like fighting." Maybe not, but her face was still flushed, and electricity surged between them.

"Neither do I," he said, catching her bare arm in a light grasp. Before their divorce, a moment like this might have erupted into a fight, complete with raised voices and maybe a few tossed plates. If Callie turned to the dramatic to make her point, which had been her usual habit.

Now he felt perfectly calm, as though he stood in the eye of the storm while chaos swirled around him. This moment was inevitable.

"What do you want?" She looked vulnerable, the line of her mouth soft, her eyes dewy and dark.

"I don't know," was his honest response.

Her smooth, rose-scented skin taunted him. He rubbed his fingertips back and forth over her arm, tempting himself with memories of long, hot, summer evenings pressed against her in the backyard hammock.

How had everything turned to sh*t after that first year?

"Let me go," she whispered.

________________________________

Excerpt #2
Callie rechecked the brooch securing her gauzy, iridescent peach-colored shawl over her bare shoulders. It didn't provide much warmth, but it hid her skin somewhat. She shifted her seat on the cold, stone steps leading to the front door of the church where the wedding was to take place. At any moment. All that was missing was the best man. She had been stationed on the porch to wait for him.

Fortunately the air was much warmer than her impromptu chair. May had arrived, but it was too early in the morning for the late spring sun to have warmed up the terraced entrance to the church.

A limousine pulled to the curb in front of Callie. Probably the car for the bride and groom, she surmised.

The rear door opened, and Hayden stepped out. His tuxedo was immaculate, sharp, and showcased his bold cheekbones and dark blue eyes. She wished he'd gotten ugly over the past two years, but if anything, he looked better than ever as he approached his fortieth birthday.



You're just suffering from the deprivation of male company. Don't forget, he's a superficial, womanizing jerk. Not your type at all.



Someone had forgotten to tell her body that he wasn't her type. She shivered, a bone deep tremor that started at the base of her spine. As she watched him ascend the stairs with fluid ease, the shiver turned to heat, and she burned with memories of his hands on her skin, his lips on the nape of her neck. He'd always said he loved for her to put her hair up, because he could set her on fire with the slightest attention to the back of her neck.

The day she'd cut her hair, she'd felt freed from its weight and the weight of her past. Now she felt exposed and vulnerable.

"Waiting for me?" Hayden reached down, presumably to help her get up from the stairs.

"Somebody had to. Janie's mom wouldn't relax until I volunteered to come find you," she said, accepting his hand against her will. Her already heightened senses leapt higher as she caught the scent of his musky aftershave. Suddenly her backside and thighs weren't so cold. "Trust you to make the dramatic entrance."

He grunted in response, tugging her toward the church's double doors. They creaked slightly as they entered the building, and organ music greeted the pair. "I'd better go into the chapel," he said. "You go do whatever the girls do." He dropped her hand and disappeared into the sanctuary.

Who did he think he was anyway, some kind of rock star? Who came to a wedding in a limo? He kept the entire party waiting, and then he arrived in a hired car to make the grand entrance. That was Hayden for you, she fumed, caring more about impressions and appearances than people.

"Callie!" Janie's younger sister poked her head out of one of the meeting rooms down the hall. "Come on! It's time for the processional."

_____________________________________

Excerpt #3
"Don't worry about calling your shots," Hayden said, stepping back.

"All right." Callie bent over the pool table, holding her cue awkwardly under her left arm. "Help me?"

He groaned mentally. Standing behind her to guide her shot fit in perfectly with his mid-dinner plot of getting her to stay the night. It wasn't so perfect for his post-dinner resolution of chivalry and self preservation.

He took a step closer, daring no more. Her citrus-clean fragrance tempted him to take another step forward. "Grip the end of the stick lightly."

"All right." She loosened her hold on the cue and then propped the stick across the knuckles of her right hand.

"Like this." He lifted the cue off her table hand. "The stick needs to glide lightly across your skin. This hand is just to steady the stick while you push and aim with your left hand." He repositioned her cue so that it rested between her right index finger and thumb. "Use your other fingers for stabilization."

"Now I remember." She flashed him a brief smile before taking the shot. The cue ball bounced harmlessly off the bumpers. "Maybe this wasn't such a good idea."

"Come on. Try again."

Callie walked along the two free sides of the table. The other two sides were hemmed in by the corner of the room. "I've got a shot," she said, taking aim from a new location. "I'm going for the thirteen. Maybe it'll get into the pocket if I hit it just off center."

"Remember your table hand is just a guide. The power comes from your shooting arm, so judge how hard you need to hit the ball."

"Watch thirteen," she said, sparing a look at him before returning her focus to the table, her short sable hair fanning against her cheek. She pushed the stick forward in practice a couple of times, and then she made her shot. Her aim was true, but she'd hit the cue ball too hard, and the thirteen ball bounced off the rim of the pocket.

"Great shot!" He meant it. She'd never played well when they were dating, but she never let her discouragement show. "You want to go again?"

"No, it's your turn. I'll watch and try to pick up some pointers."

Hayden took his shot, and the cue ball smacked against the three-ball, which tumbled into the right center pocket.

"Go again," Callie said. "No need to give me extra turns."

"Practice is the only way to get better," he protested, but he had lined up his next shot the moment she urged him to take another turn. "Four-ball." He took one of the short sticks down from the rack and went to the far side of the table next to the wall. "I should have gotten a smaller table," he lamented. "It would have been easier to play in here."

"But it wouldn't have been what you wanted," she responded.

She seemed to understand him, maybe for the first time. "Right. This was what I wanted."

Hayden's shot was true, and number four went directly to the pocket next to Callie on the outside of the table. But it didn't sink all the way, didn't rumble down the ball track to the retrieval area. "What's up with that pocket?" he asked.

She plucked the ball out of the hole. "There's something stuck in here." Her hand disappeared into the table, and she started laughing. "You missing something?"

Before he saw what she had found, he knew what it had to be. The unmistakable ring of keys sounded as she jiggled them in his direction. "Who keeps their keys in the pool table?"

______________________________________
Excerpt #4
Callie had forgotten two things—how much she disliked playing pool and the reason she had played it anyway during their courtship. Having Hayden standing behind her to make subtle adjustments to her position fired her hormones as much now as it had five years ago. Though he kept an appropriate distance between them, she felt his heat along the surface of her skin. She should have headed home after tea.

It was too late now. She couldn't leave, even though she knew she courted danger by staying.

"Your posture is too stiff," Hayden said. "Relax."

"I'm trying." How could she relax when she longed for the forbidden to happen, right here at the pool table?

"Maybe this will help." His hands covered her shoulder muscles, his thumbs kneading the base of her neck in a circular motion.

She hadn't wanted this, truly. But her body craved the familiar touch all but forgotten by her long dormant desire. "Mmmm." Her head dropped forward to allow him greater access to the ultrasensitive skin at her nape.

His thumbs and fingers pressed into the tight muscles along the slope of her shoulders, gradually returning to her neck to rub his thumbs up and down the length of it from the base of her skull to the neckline of her sweater. Her pool cue dropped to the felt top with a dull thud, and Callie gripped the edge of the table while willing herself not to be seduced by a pair of skillful thumbs.

The pressure of his touch changed. She knew that caress, knew she was losing her internal battle not to react to it. As of its own volition, her sweater slid down her arms and she gasped when Hayden's palms made contact with her goosebump-covered skin.

His lips were hot on her neck, and Callie's nails dug into the felt bumper on the pool table. "Stop me, Callie," he murmured against her skin. "Say no. Say it now."

"I can't," she moaned.

I can't.



His arms circled her waist, drawing her into his heat as his mouth continued to explore the exposed skin along her collar. Enough. It was time to tell him to stop or to turn around and kiss him properly.

Her body chose the latter course, and somehow she turned inside his embrace to meet his lips with her own. Their mingled hunger shocked Callie. She clutched his shirt in her fists as he pressed her backside into the rim of the table. She pulled at him, wanting him closer, needing what she had missed every night during the past two years.

Breaking the kiss, Hayden tipped her head back with his thumb. She struggled to catch her breath, gratified to see that he was panting too. If he hadn't been as needy as she was, Callie would have been embarrassed. Instead she experienced a surge of passion and forgotten tenderness toward the man she had once loved.

Her arms and legs twined around Hayden, and he carried her to the couch where he set her down on a mound of pillows. Their kisses grew more obsessive until Callie thought she'd go mad if they didn't take it to the next level. She wanted him on top of her, possessing her completely.

The mountain of cushions quickly became uncomfortable, and she pulled a couple of pillows from under her back and threw them. "Help me," she mumbled, unable to tug more of them from beneath their combined weight. Hayden lifted her up and tossed the rest of the pillows.

When she'd arrived at his front door, this was the last thing Callie had expected to happen. A bitter fight had seemed a lot more likely than shared lust, flat on her back under her ex-husband, happy as hell about it.

Labels: free read, romance novel





THE END



What is it like to be an author, you may wonder?

If you are well organized and know what you are doing, it's probably NOT like my past two weeks have been. Some confusion about my release date etc and newbie confusion and just confusion in general--

I wrote nearly all of His and Hers Dalamatians in the past two weeks. Yep. It came in at 30K, and the last day of pounding the keyboard, I pulled 5K out of thin air.

This is what my friends call "The writing cave." I have not been to the writing cave before. I didn't know what it really meant, until I lived in it.

It means not bathing for a week and looking down at oneself in shock when DH says, "Don't you think you at least ought to put on a clean pair of pajamas?" In other words, YOU STINK. I'm sleeping in the guest room, thank you very much.

(Good. That means I can write in bed all night with the light on.)

It means living on Pepsi and antianxiety medication and thankfully gobbling down whatever your DH puts in front of you.

It means hoping your kids did their homework and having to set an alarm to remember to pick them up from school. This doesn't help if you can't figure out what the noise is when the alarm goes off.

WHAT HAPPENS WHEN YOU EMERGE FROM THE WRITING CAVE

First, you wash your underwear. Next, you take a long nap.

Now that your underwear is clean, you can take a shower. You are shocked by the appearance of about two dozen zits from forgetting to wash your face. And whose breath is that? No wonder DH has moved into the guest room.

Every time you put your computer down, all three kids climb all over you, until you are jonesing bigtime for another anxiety tablet. If only they would get off you so you could find the bottle. Oh yeah. Ran out during time in writing cave.

You realize that your toddler, who will feed herself and even change her own diapers (thank heaven for Pull-Ups), has been wearing the same pajamas for the past four days. You'd change her clothes, except she doesn't have any clean. Even with her handy stool, she can't reach the washing machine. She can, however, reach the dishes and get herself a glass of milk. And a towel to clean up the spills afterward.

"Owie, owie, owie. Please don't comb my hair." You tell your little girl that if you wait another day, it will only hurt more and keep right on combing.

It's official. You are the worst mother on the planet. You are also the worst author on the planet. You know your writing stinks, no one is going to buy the book, and your publisher and editor hate you because you bypassed your deadline so dreadfully.

And that is what it is like to enter the writing cave and to come out the other side.

My parents are coming to stay next week. I am housesitting for them while they work out of state. This place is a disaster! DH is freaking out, and I haven't worked my full hours for the past two weeks. Praying that I don't get fired and that I can clean all the toilets and the carpet and refill everyone's dressers before Nana and Papa get here.

Please buy my book!



Dangit, there goes that alarm again...

Labels: family life, writing